About PotterJohn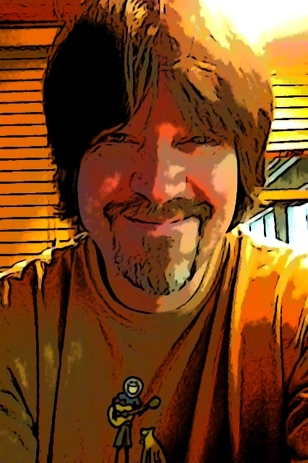 Hi, my name is John Lawson, also known simply as PotterJohn. I live atop Cedar Mountain in Western North Carolina (USA) with my wife and two neurotic dogs. I absolutely love sharing my life with my pack in this beautiful place I call home.
I have been a professional potter for over twenty years now. After graduating from
Clemson University
, I studied pottery at
Callanwolde Fine Arts Center
in Atlanta, Georgia, and at
Marshall University
in Huntington, West Virginia. My first studio was in my hometown of Charleston, West Virginia. For many years I traveled the Mid Atlantic states selling my unique line of garden pottery at juried events. I also taught pottery for six years.
After moving to North Carolina in 2011 and setting up my new studio, I have shifted the focus of my work to concentrate on making containers for the Japanese art of Ikebana (see
What Is Ikebana?
). In addition to being a professional potter, I am a student of Ikebana and have attained my fourth certificate level in the
Ikenobo Ikebana Society
. I am also an active member of the
Asheville Chapter of Ikebana International.
---
About Making Ikebana Containers
For me, the key to making great Ikebana containers is bringing these three elements of design to each one of my hand-made pieces.
Functionality: One simple job.
Does it hold water? I water test each of my containers for three days to make sure they are water tight. Containers that have more than one orientation are water tested for three days in each position. Some containers can take up to twelve days just to water test! If a container fails this all important test, it is destroyed.

Usability
: All of the design aspects that make a container more useful to the Ikebana designer when executing an arrangement.
I incorporate rings and ridges on the inside of some containers (for Heike, Shoka, Seika) to help anchor plant materials or kubari.

Sometimes a removable shelf may be included to allow the container to be used with or without a kenzan, depending on the school.

Interior depth is important for some containers (like Suiban) to accommodate kenzan or shippo.

Size and scale; when designing for home or exhibition use or for specific plant materials (especially tropical plants, due to the scale of some leaves and flowers).

Weight can also be an important consideration in the design of a container – a heavy container can be especially useful if you know that the container will be used to make top heavy or extreme designs.

The base or foot of the container is designed to conform first to the style of the piece and secondly, to create stability. Small footed containers are designed to be heavier in the bottom to promote a lower center of gravity. (see my blog post on lowering the center of gravity in small footed containers)
Style
: This design element usually applies to the outward appearance of a piece.
traditional or modern shapes

formal or casual design

historical references

cultural context

holiday-specific, seasonal or year-round use
color meaning and psychology

pattern and surface decoration

shiny or matte glaze treatments

One of the things I like best about being a studio potter is the relationships I have developed with my customers and other students of Ikebana. I enjoy our exchanges of ideas and often share those insights on
my Blog
. I am grateful to learn about the different containers used by other Ikebana schools so that I am able to offer an ever increasing variety of container types and styles through my on-line store (
see containers here
).
And that, in a nut shell is what I and my work are about; sharing my insights and discoveries about Ikebana and delivering high quality, handcrafted Ikebana containers to the practitioners of this delightful Japanese art form.