Useful Tools for the Ikebana Designer
Wedges and Risers
Wedges and risers can create interest and different perspectives for your Ikebana floral arrangements. They can be used with a single, pair or group of containers. The lift and support that risers contribute to a design, can make the container seem lighter than it really is - almost floating. Tilting two or more containers up on their edge or corner with wedges can imbue the entire design with a sense of tumbling energy and movement. When used together, both aspects are at play in the design. You can make your own wedges and risers like I did.
Choosing your material
Wedges and risers can be made from many different types of materials including: PVC piping, wood, bricks, stones, and found objects.

Choose the materials you are most comfortable working with. Some of these materials require special tools or skills to convert into wedges and risers. If you lack the experience and skills to manipulate these materials, a good alternative is to find someone that is handy with tools and get them to make the wedges and risers for you. A person with the right tools and skills can make these in no time (about 15 to 20 minutes for an entire set).
Because it is easy to cut, very durable, lightweight, accepts paint, and comes in both white and black, I chose PVC pipe for my wedges and risers project. You can find short three or four foot lengths in various diameters in the plumbing section of most home improvement stores.
How to Cut Wedges and Risers From PVC Pipe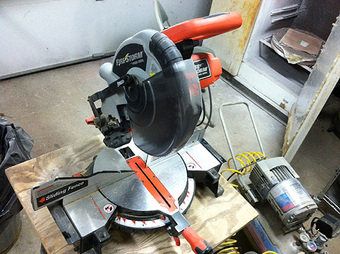 Perhaps the biggest challenge is figuring out how to accurately mark the various degrees of slope you might want for your wedges and then cutting them true and straight. While this can be done with a carpenters square and hand saw (but very time consuming and difficult I might add), the best tool for this job is an electric chop saw. A chop saw simplifies the entire cutting process, making perfect cuts through your material. Because most chop saws are designed to make angle cuts from zero to forty five degrees, making wedges is a snap!
Without the need to adjust the saw for angle cuts, making risers is an even easier process - just measure along the length of your material the height you want your risers to be, and cut on those marks.
Found Objects for Wedges and Risers
I am certain that if one looks hard enough, there are many objects that could be used as wedges and risers. Hockey pucks and tuna cans might make good risers and door stops could be used for wedges. For someone who likes the outdoors as much as I do, it might be fun to collect natural wedge shaped rocks or flat pieces of shale or slate that could be stacked to make adjustable risers. The possibilities are endless!
If you enjoyed this post and would like to see more like them, leave a comment below. I'd love to know what Ikebana topics you're interested in. And if you are looking for containers like the ones in this post, they will be available in the store on this website for purchase very soon.