An Ikebana Relief Design with a Traditional Feeling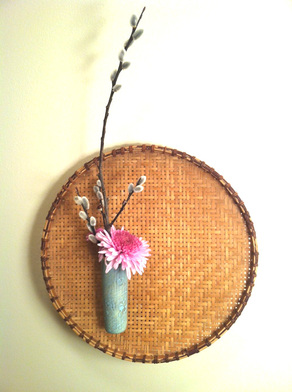 As I said in part 1 of this series, I wanted to start my design experiments by producing a design with a more traditional look and feel.

So I started with a bamboo tray as a background, frame, and structure to build from. Additional items to make this arrangement included a small turquoise ceramic container, 26 gauge floral wire, wire cutters, hasami, pussy willow (2 twigs) and lavender "stock" mums (2 flowers). You really don't need much to create one of these arrangements.

The ceramic container (for sale on this website) has two very small holes in the back to allow it to be wired to almost anything. I just ran the wire through the holes and then through the bamboo tray. Giving the wire a couple of twists on the back side of the tray tightens the container to the tray and makes everything secure.

The trickiest part of this arrangement was finding the proper placement of the wire on the back side of the tray to create a hanging loop. Because of the off center nature of this design, the wire hanging loop also has to be located off center to get the arrangement to hang straight. The hanging wire is actually located near the top of the tray and directly above the ceramic container.
I'd love to hear your thoughts about relief arrangements - just click on the comments section below and if you have any questions, I'll do my best to answer them.