Moving Ikebana from the Table to the Wall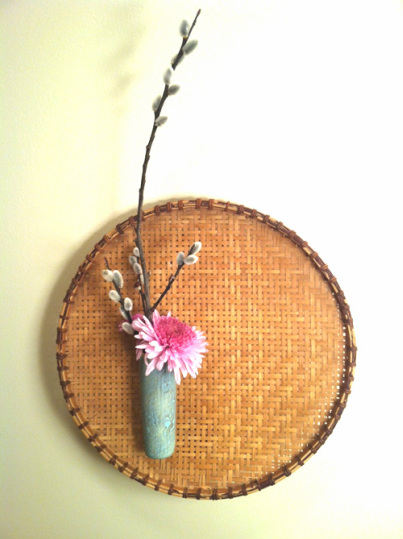 At the October, 2014 meeting of the Blue Ridge Chapter of the Ikenobo Ikebana Society, in Hendersonville, NC, Laura Felt and Norma Zunich presented the design of relief style ikebana arrangements.

Over the next several months, I created some containers that I thought would be suitable for this type of arrangement in the hopes of trying them out at the chapter meeting workshop on relief style arrangements scheduled for February, 2015. Unfortunately, that meeting was cancelled due to winter weather.

Anxious to try this type of design out for myself, I scheduled a whole day in the studio to experiment and make this type of arrangement. I decided to start with something that would look more traditional and then work towards a more modern interpretation.

---
With few rules, this design maximizes creativity!
The rules for relief style arrangements in Ikebana (
as presented by the Ikenobo school
) are few and unique:
Arrangements must be made to hang on a wall
Use at least one natural, live material (you can use dried materials, man made materials, etc... just remember to include one live material)
There should be a clear focal point
Mechanics and containers should not be visible unless they blend with or contribute to the overall design of the arrangement
If you are using two or more flower containers, the arrangement should show a connection between them: similar in design, color, size, connected by blossoms, line materials or other design elements
---
Comment and let me know what you think about Ikebana Relief Arrangements - and if you've never experienced this type of arrangement before, join me for parts 2 through 5 in this series and see some of the many possibilities!