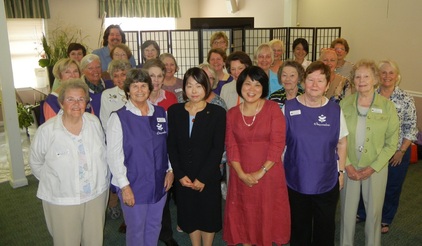 The Fall Workshop for the
Blue Ridge Chapter of the Ikenobo Ikebana Society
was held on September 17th and 18, 2014. Visiting Professor, Toshiko Komiya (front center in the dark suit), demonstrated and instructed in designing Rikka Shofutai, Shoka Shimputai and Free Style utilizing the new Ikenobo curriculum. A welcoming dinner was held for Professor Komiya at the Square Root in downtown Hendersonville on the first night of her arrival.
We all found the sensei to be talented, creative, patient, and in possession of a great sense of humor. The Rikka exercise on the first day was particularly challenging, but Professor Komiya broke it down into three stages and this helped prevent what could have been a very overwhelming day. The traditional Rikka Shofutai is a very beautiful (and very time consuming) design, and while we all got very close to the sensei's standard, five hours really wasn't enough time. Her critique of our work was gentle and kind.
The second day found us making Shoka arrangements in the morning and Free Style arrangements in the afternoon. By day two, we all began to relax a bit (with the hard "Rikka" part behind us) and enjoy the more modern form of Shoka Shimputai and the creative expression that can be realized when designing Free Style. Below are some of Professor Toshiko Komiya's arrangements from the workshop.
We crammed a lot of instruction into those two days and a great time was had by all. We had beautiful plant materials to work with and a visiting professor that was simply a delight.

And how did my own arrangements turn out you may wonder?