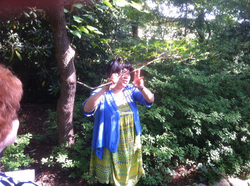 The August meeting of the
Blue Ridge Chapter of the Ikenobo Ikebana Society
was today at our member Laura's Garden. Professor Emiko Suzuki discussed the "In and Yo" of selecting and cutting plant materials out in the garden for Ikenobo arrangements.
She also talked about the different ways parts of the same plant grow toward the light and which of these parts are most suitable for specific elements of an Ikenobo design. Using a "Shoka" arrangement as the example, Emiko showed us where to find the best material for "Shin" and "Soe" from a big azalea bush and how to study the growing pattern of a daisy to discover the best parts to cut for the "Tai" group.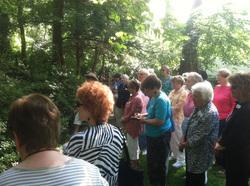 Professor Suzuki shared her knowledge of how to best utilize the growing habits of different plant materials when planning a Free Style arrangement too. How one considers the plants can be influenced by whether the arrangement is right or left handed, upright, slanting or horizontal, the type of container used, and even the time of year (which can determine the availability of some materials).

Thank you Laura for opening your home and garden up to us. Thank you Professor Emiko Suzuki for sharing your knowledge and insight. And thank you again to Laura and all of the other members who contributed to a delightful luncheon.