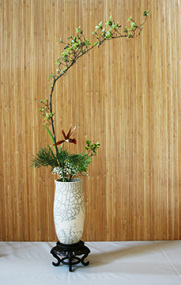 This was one of my first exhibition arrangements. A Free Style arrangement in one of my own containers consisting of azalea, blue cedar, gypsophila and orchid. Shown at the Arboretum in Asheville, NC.

Bottom left was a Free Style arrangement I made at home in a glass container consisting of plants growing outside my house. "Red Hot Poker" (Kniphofia-uvaria), wild onion, and hosta were the materials used.

Bottom right is another exhibition arrangement in a square bottom basket balancing on one of the bottom edges (I used a rock under the back left corner to give the basket lift). Materials included; dogwood, yarrow, bittersweet, mountain laurel, and chrysanthemum.