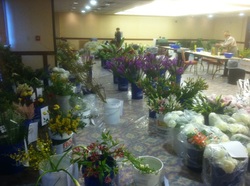 The Ikebana International North American Regional Conference was held at the Renaissance Asheville Hotel from May 18 - 22, 2014. I was invited to make my work available for participants to purchase on Sunday the 18th. Monday through Thursday, I volunteered to help out in the Flower Room under Sibbie Wilson's expert supervision. I learned so much over those four days! The quality and variety of flowers, leaves and line materials was staggering. The prepping and conditioning of the materials as they arrived from the various wholesalers and from individual gardens was a sight to behold and experience. With approximately 100 exhibition arrangements, 9 workshops, 3 stage demonstrations, table arrangements for 2 dinners and 1 breakfast meeting, we went through a tremendous amount of floral material.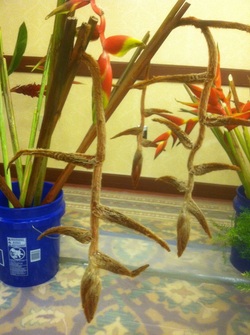 I also had the opportunity to experience some tropical plants that I had never seen before, like these hairy heliconias.

This post would not be complete without making mention of the role Mrs. Sibbie Wilson played in the success of the Flower Room. She brought tremendous organizational skills to this operation as well as a very deep knowledge of plant conditioning. We had over 300 five gallon buckets of flowers and line materials that had to be conditioned and maintained throughout the conference - it's not as simple as putting a packet of floral food into a bucket of water and then walking away - I can tell you that for sure! Some plants had to be cut, burned, hammered, fed, misted, tented, submerged, pinned, separated, wrapped, bundled, etc.... I'm getting tired all over again just thinking about it.