A Demonstration by Susan Cano at Ikebana International, Asheville, NC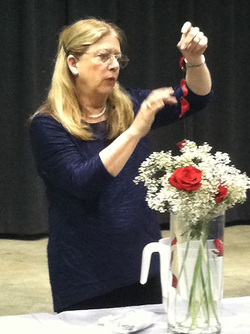 The April meeting of
Ikebana International Chapter 74
was all about bringing the drama to an arrangement or design intended for a big event or exhibition. Susan Cano, Riji, Sogetsu School and president of the Asheville Chapter of Ikebana International shared some of the things that she considers important for exhibition arrangements.
Space is important for any work of art. Positive, negative, and what Susan calls "invisible" space, all contribute to the three dimensional nature of a design. Invisible space is the space between the layers of the different elements in your design and it is key to creating depth in an arrangement. You can not see this space because it is obscured by the element in front of it, but without it, the whole arrangement would appear flat and two dimensional.
---
"Using Line To Emphasize Space"
The line material used in both arrangements below, were added to emphasize space in the designs. In the first arrangement, a cylindrical container was used. To create the impression of depth, Susan used two arcs of overlapping thin strip bamboo. This not only helps to give the impression of depth, but also aids in defining the negative space in the design.
In the second arrangement, the goal was to create lots of drama with strong colors. Susan used a red line material made from dyed thin strip bamboo which perfectly matched the red halliconia. The last addition to this design however, was incorporating a strong focal point by adding several bright yellow calla lilies in the center. The yellow callas intensified the yellow highlights on the halliconia and were so strong that they just kept bringing the eye back to the center of the design. It was hypnotic - I loved the energy of this design.
---
"Extending The Arrangement To Incorporate More Of The Surrounding Space"
This last arrangement was all about incorporating more of the space around the arrangement - drawing it in and making it a part of the design. Using just two materials (pussy willow and pine), Susan was able to include the surrounding table top into her design and create a fairy tale ballet - simply magical.

It is always a pleasure to see a master at work. Susan Cano gave us a lot to think about at this April meeting of Ikebana International; using space and line and focal points to create depth, movement and drama. It was a mind blowing demonstration considering she created seven arrangements in under an hour!