Designing without the Background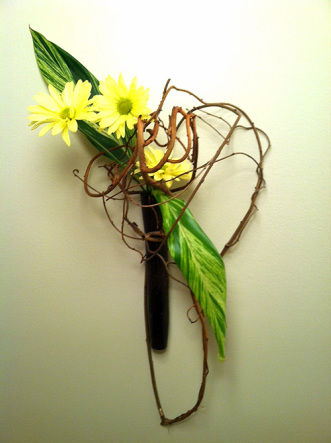 For my second experiment with Ikebana relief designs, I decided to create something that used the actual wall as the background - eliminating the tray, board, scroll, etc... that one would normally use to build upon.

I have seen relief arrangements that incorporated an open grid or lattice made of bamboo - but I wanted something more organic and irregular. I settled on a nice piece of wild grape vine I have growing on my property as my starting point.

The additional materials I used for this design included a long narrow ceramic container glazed in a dark rust red ash glaze, 26 gauge floral wire, wire cutters, hasami, ginger leaves, and three yellow "stock" mums.

After running the wire through the two small holes in the back of the container, the grape vine was then wired to the back of the container and a hanging loop formed.
With the wiring completed, all that was left to do was arrange the ginger leaves and yellow mums. I just love the tropical feel of this design - exactly what I needed after a long cold winter!

If you are enjoying this series of posts or have any questions, leave a comment below. And if you like this series, do share it with your ikebana friends.